The UK economy performed better than previously estimated at the end of last year, revised official figures show.
It was previously thought the economy had not grown in the last three months of 2022, but new Office for National Statistics data shows it grew by 0.1%.
The latest figures confirm that the UK economy avoided falling into recession at the end of 2022.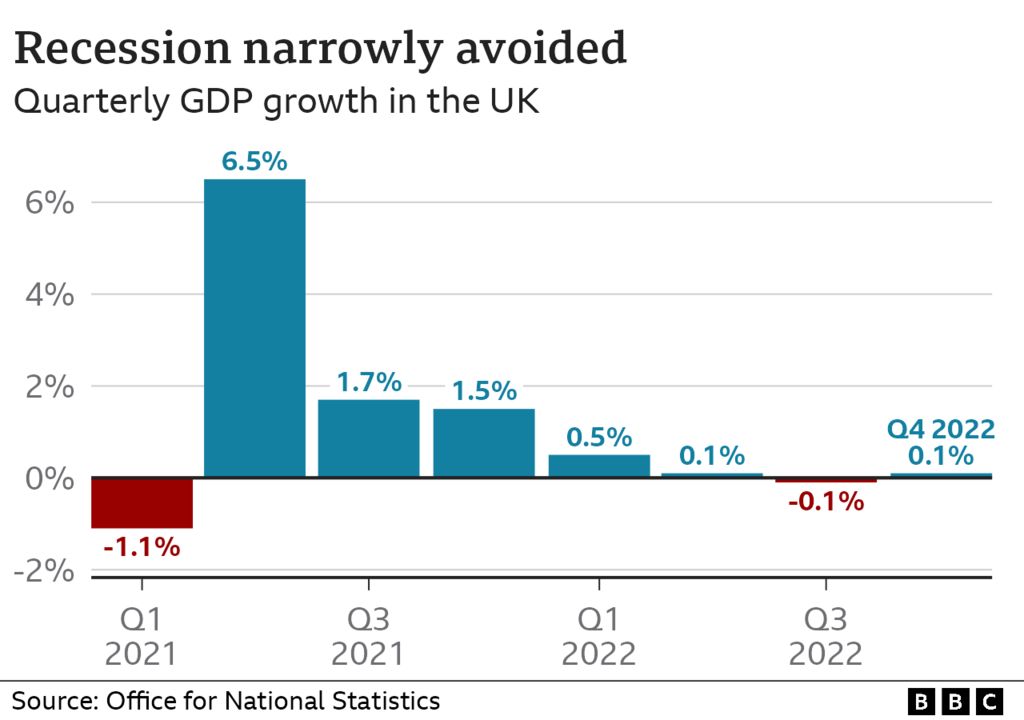 The ONS said telecommunications, construction and manufacturing had all fared better than initially thought.
It also said household finances had been helped by the government's energy bill support scheme.
The main driver of the economy in the UK – the services sector – was boosted by a sizeable jump for travel agents.
Manufacturing growth was driven by the drugs industry, and construction growth was up much more than previously thought.
The ONS also revised up its estimate for the economy's performance in the July-to-September quarter. It now says GDP – the value of the goods and services the country produces – fell by 0.1%, compared with its previous estimate of a 0.2% fall.
Chancellor Jeremy Hunt said the figures "show there's underlying resilience in the UK economy".
However, he added that "families up and down the country are facing real pressure".
A recession is usually defined as when the economy contracts for two three-month periods in a row, so the growth at the end of 2022 means the UK avoided one.
Last week, the Bank of England said that the economy was expected to grow only slightly in the coming months.
However, Bank governor Andrew Bailey said he was "much more hopeful" for the economy, and it was no longer heading into an immediate recession.
Mr Bailey's comments came after the Bank increased interest rates to 4.25% from 4%.
Interest rates have been repeatedly hiked as the Bank attempts to get the soaring pace of price rises under control.
Inflation, which is the rate at which prices rise, remains close to its highest level for 40 years, and hit 10.4% in the year to February.