The UK has been accepted into an Indo-Pacific trade bloc in what the government says is its biggest trade deal since Brexit.
The Comprehensive and Progressive Agreement for Trans-Pacific Partnership (CPTPP) is a free trade agreement between 11 countries across the Indo-Pacific, including Australia, Brunei, Canada, Chile, Japan, Malaysia, Mexico, New Zealand, Peru, Singapore and Vietnam – and now the UK.
The partnership sees the countries open up their markets to one another, reducing trade barriers and tariffs, with the hope of bolstering the economies of its members.
Trade Secretary Kemi Badenoch said the UK's accession to the CPTPP was formally confirmed in a telephone call between her and counterparts from the group at 1am BST on Friday.
The UK is the first European country to enter the agreement, and the government claims it will lead to a £1.8bn boost to the economy "in the long run".
Prime Minister Rishi Sunak said the deal shows "what we can achieve when we unleash the benefits of Brexit".
But his predecessor, Liz Truss, called on the government to use its membership to block China from joining.
Releasing a statement, the former PM said: "The CPTPP is a vital economic bulwark against China and in due course I would like to see other like-minded free-trading nations making their own applications to join.
"It is essential, however, that any idea of Chinese accession is ruled out and I would expect the British government now or in the future to oppose any such proposal."
While the UK already has trade agreements with most of the CPTPP members, apart from Malaysia, UK officials said it would deepen existing arrangements, with 99% of UK goods exported to the bloc now eligible for zero tariffs.
This includes cheese, cars, chocolate, machinery, gin and whisky, while Downing Street said the services industry would also enjoy "reduced red tape and greater access to growing Pacific markets".
The deal has been praised by a number of business groups, including the Confederation of British Industry (CBI), Standard Chartered bank and the world's second-largest wine and spirits seller Pernod Ricard.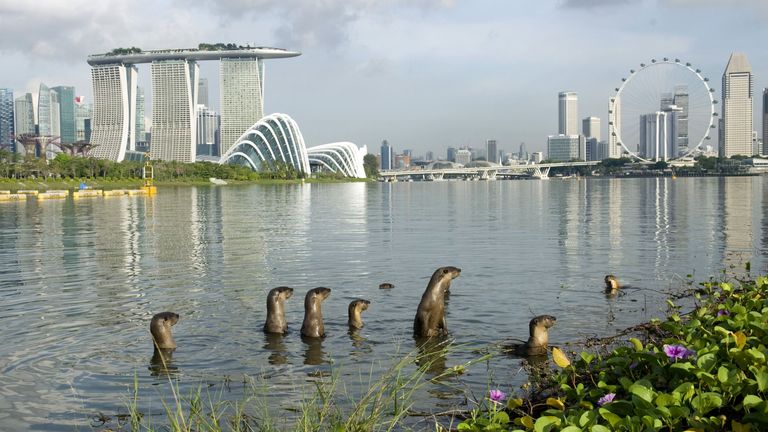 Singapore is one of the now-12 members of the CPTPP
'Real milestone for British industry'
The announcement was welcomed by business group the CBI which called it "a real milestone for the UK and for British industry".
Interim general director Matthew Fell said: "Not only does the agreement provide greater access to a group of fast growth economies representing 14% of global GDP and over 500 million consumers, but membership reinforces the UK's commitment to building partnerships in an increasingly fragmented world.
"CPTPP countries and business need to work together to future-proof the rules-based trading system and stimulate growth with a focus on digital, services and resilient supply chains."