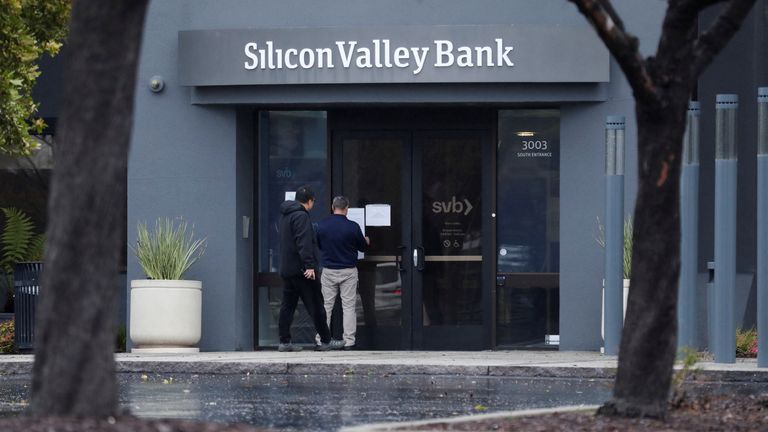 US regulators have shut down the country's 16th largest bank, in the biggest collapse of a financial institution since the 2008 financial crisis.
Silicon Valley Bank failed after depositors – mostly technology workers and venture capital-backed companies – began withdrawing their money, creating a run on the bank.
The US Federal Deposit Insurance Corporation (FDIC) has seized its assets.
It said the bank had $209 billion in assets and $175.4 billion in deposits at the time of failure.
It was unclear how many of the deposits were above the $250,000 insurance limit.
The FDIC could not immediately find a buyer for the bank's assets, signalling how fast depositors had cashed out.
It also seized the bank's assets in the middle of the business day, a sign of how dire the situation had become.
The financial health of Silicon Valley Bank had been increasingly in question this week after the bank announced plans to raise up to $1.75bn dollars in order to strengthen its capital position.
Silicon Valley Bank had acted as a major financial conduit for venture capital-backed companies, which have been hit hard in the past 18 months as the US Federal Reserve has raised interest rates and made riskier tech assets less attractive to investors.
The bank was heavily exposed to the tech industry but experts say there is little chance of knock-on effects in the banking sector as there was in the months leading up to the recession more than a decade ago.
Major banks have sufficient capital to avoid a similar situation.
In 2007, the biggest financial crisis since the Great Depression rippled across the world after mortgage-backed securities tied to ill-advised housing loans rippled from the US to Asia and Europe.
The panic on Wall Street led to the collapse of the storied Lehman Brothers, founded in 1847.
'Mild panic' as bank failure leaves investors 'spooked'
The City of London also felt the effects of the bank's collapse on Friday.
There were big market falls for the two biggest international banks on the FTSE 100, HSBC and Standard Chartered, which dropped more than 4.5%.
Susannah Streeter, head of money and markets at Hargreaves Lansdown, said there was a "state of mild panic" surrounding shares in the financial sector because of the Silicon Valley Bank news.
She said interest rate worries had also rattled investors but that the news from the US had them particularly "spooked".
The FTSE 100 closed down 1.7% at 7,748.35 points, a reduction of 131.63.
Markets were also down in the US where the S&P 500 had given back 0.7% of its value while the Dow Jones was trading down 0.4% shortly after trading ended in London.
France's Cac 40 and Germany's Dax indices both closed down 1.3%.
On currency markets the pound gained 1.1% against the dollar, trading at 1.205 by the close of play on stock markets.