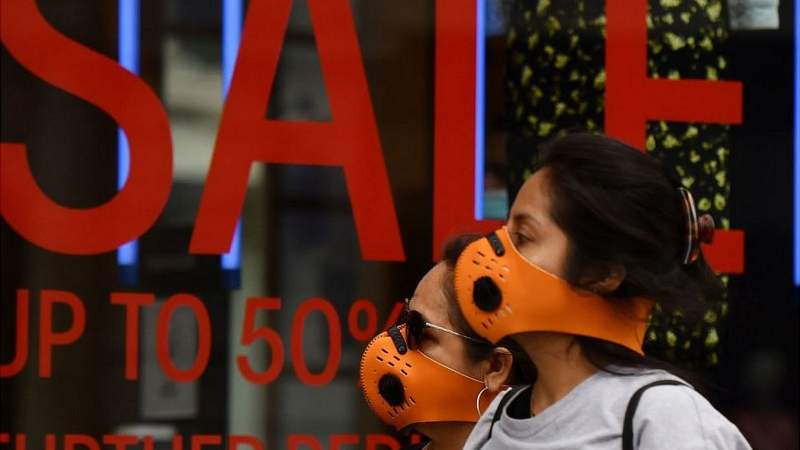 UK retail sales were near pre-lockdown levels in June, as the reopening of shops released pent-up demand.
The amount of goods sold last month increased by 13.9% compared to May, according to the Office for National Statistics (ONS).
Separately, a closely watched survey showed that activity in the UK's services and manufacturing sectors returned to growth last month.
However, economists warned that the country's recovery would take time.
June's rise in retail sales followed record falls in April and a partial recovery in May as the coronavirus pandemic led to widespread shop closures.
But it masked "big changes" in retail, with food and online sales up, while clothing was still "struggling", the ONS said.
Online sales continued to go "from strength to strength", the ONS added, accounting for £3 out of every £10 spent by consumers.
Demand at food stores remained strong, hitting new highs for the lockdown period.
Compared with February, the volume of food sales was 5.3% higher while non-store retailing grew by 53.6%.
The ONS said the rebound had brought overall retail sales back to a similar level to where they were pre-lockdown, but there was a "mixed picture" in different store types.
In June, non-food stores, including department stores and clothes shops, partially recovered from strong falls during the lockdown but were still 15% lower than in February.
Non-essential shops in England were not allowed to reopen until 15 June, so they were only trading for half the month.
Jonathan Athow, ONS deputy national statistician, told the BBC that there had been "some really big changes under the surface" of the retail landscape since lockdown began.
"Food shops continue to do quite well, as we're eating at home more," he said.
"But the real growth has been in online sales. Online sales continue to go from strength to strength."